Hosting Pollinators at Home
05/13/2023 01:00 PM - 03:30 PM PT
Admission
Location
Marilyn and Fred Ellis Preserve
842 Hoffman Cove Rd
Shaw Island, WA 98286
United States of America

Summary
Learn how to create or enhance habitat for bees, butterflies, and other pollinators in your home landscape.
Description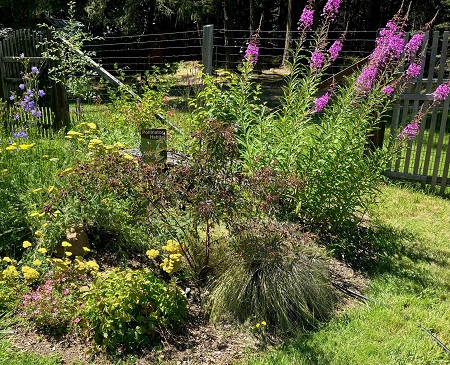 Join Eliza Habegger of the Salish Seeds Project and Ruthie Dougherty, SJPT's Ellis Preserve curator, in the Tharald Homestead garden to learn how to create or enhance pollinator habitat where you live. Key elements for successfully hosting invertebrates, proven plant species, and other resources will be discussed as we observe established and newly created pollinator-friendly areas. For those interested, there will be an opportunity for hands-on habitat creation, as well.
Date: May 13, 2023
Time: 1:00pm - 3:30pm
Location: 842 Hoffman Cove Rd., Shaw Island
Bring: Dress for the weather; gloves recommended
Questions? Email Ruthie Dougherty, SJPT Preserve Curator/Interpretive Specialist
Please note:
This event is free of charge, but attendance is limited to the first 10 people who sign up. (You can join the waiting list when you sign up if capacity has been reached. If there are cancellations, we will contact the next in line as soon as possible.)
All participants are required to sign an SJPT liability waiver. Please ensure that everyone you register, including yourself, has filled out our online waiver in English or en Español (required as part of the registration process).