Volunteer: Garry Oak Maintenance at the Shooting Star Meadow Preserve
10/11/2023 11:00 AM - 03:00 PM PT
Admission
Location
Shooting Star Meadows Preserve

Summary
Join us for a day of weeding and general tree care in a young grove of Garry oaks at one of our newer preserves, the Shooting Star Meadow on San Juan Island.
Description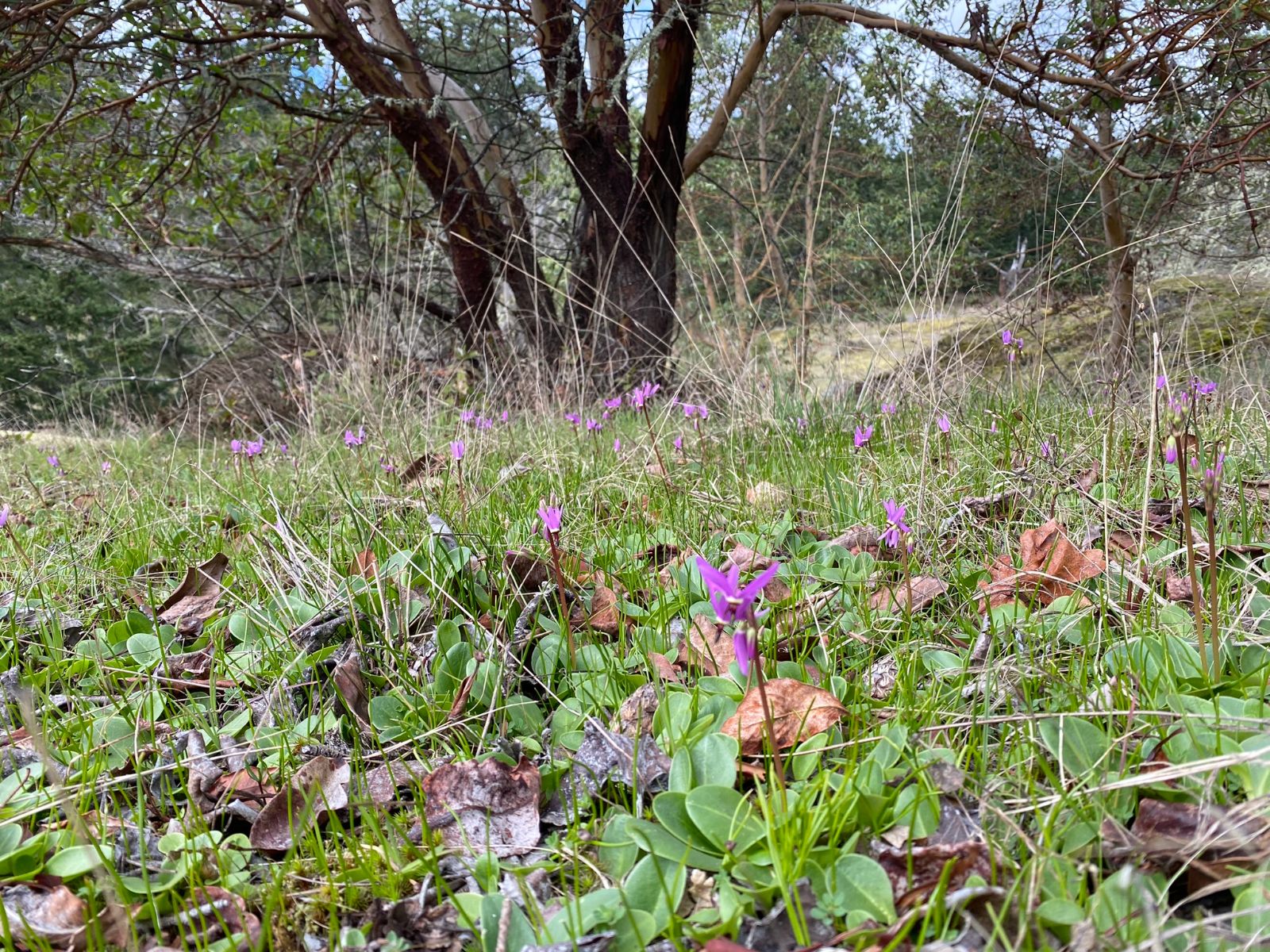 The Shooting Star Meadow Preserve is a wonderful parcel of land on the hillside of Cady Mountain on San Juan Island. This 10-acre property is one of the most recent aquisitions of the Preservation Trust, but one that we're especially excited about due to its abundant wildflower meadows and natural Garry oak stands.
For this event, we will revisit a young grove of oak trees to tidy them up for optimal growth this year and, if time allows, we may try our hands at some invasive species control too, but this event's focus will be on caring for the oaks. We will also dedicate some to discuss and contemplate the upland effects of water processes that end up in the Salish Sea and beyond and how orca whales and other marine life navigate changing environments, all as a part of Orca Recovery Day.
San Juan Island Land Steward Ben Hallowell will lead and Jack Russillo, Volunteer and Outreach Coodinator, will support.
The grounds are relatively flat, but could possibly be bumpy in some places. Depending on weather leading up to the event, it could also be muddy and puddled in some areas where we are working, so we recommend rubber boots. SJPT will supply necessary tools and some snacks, but feel free to bring your own hand tools.
Please bring your own water and lunch and arrange your own transportation to Red Mill Farm. We'll plan to meet there and carpool out to the Phelps Preserve together.
Date: Wednesday, October 11, 2023
Time: 11:00am - 3:00pm
Location: Shooting Star Meadows Preserve on San Juan Island (meet at Red Mill Farm, 290 Valley Farms Road)
Bring: Weather-appropriate clothing and footwear, sun protection as needed, work gloves, water, lunch
Questions? Email Jack Russillo, SJPT Volunteer and Outreach Coordinator
Please note:
This event is limited to the first 10 people who sign up. (You can join the waiting list when you sign up if capacity has been reached. If there are cancellations, we will contact the next in line as soon as possible.)
All participants are required to sign an SJPT liability waiver. Please ensure that everyone you register, including yourself, has filled out our online waiver in English or en Español (required as part of the registration process).